Visits to Some Tunisian Archaelogical Sites
"We have 25,000 archaeological sites." That was the answer to a question I asked of my guide when I was touring Carthage. With only five days to spend in Tunisia, there was no way I was going to be able to explore all of the sites I would have liked to see, so I prioritized. My driver and I spent two full days traveling the northern part of Tunisia and I saw enough ruins and sites to satisfy my curiosity and the reason I visited this country.
While the Carthaginians were innovative and fascinating, the Romans eventually overwhelmed them with their presence, their culture, and their architecture. Tunisia and Libya have some of the best preserved Roman ruins in the world. The favorable climate in North Africa contributes to this preservation, as does the lack of population.
Tunisia is a poor country and cannot afford to protect and preserve their ancient history as well as it should. While the United Nations branded many of the archaeological sites here as World Heritage Sites, there's no money associated with that honor, just an increased responsibility to preserve these sites for future generations. Nowhere was this lack of funding and lack of preservation more evident than at Tubernuc.
Tubernuc
My driver had never been here before, but it wasn't too hard to find, and just slightly off the beaten path. The locals helped guide us to the site. We pulled up and parked alongside a decrepit gate and a half pulled-down chain-link fence. We bounded over the piles of garbage and potholes and slipped through the remains of the barrier fencing. Halfway through our exploration, we were approached by a local who evidently lived in a shanty on the site and who was paid to keep all visitors out. He spoke with my driver and told us to leave. My driver translated for me, and I faced-off with this guy and asked, "why should I?" My driver dutifully translated my question, and added something in Arabic about me being an American. The site steward looked at me and then told my driver that we could stay for a short while, but not to tell anyone that we were here.
Okay. And up to now, I haven't. But, here's the photos. With a little money for clean-up and restoration, this site could attract a few more visitors than it gets today, which is probably close to none. Tubernuc isn't on the bus tour list of must-visit sites. Don't know if it every will, but for folks interested in the Punic and Roman history of the period, it might be worth a visit -- that is, if you speak French. If you hit the URL link on this site's name, you'll notice that the Wikipedia reference is all in French and all of the academic papers associated with this site were prepared by French archaeologists.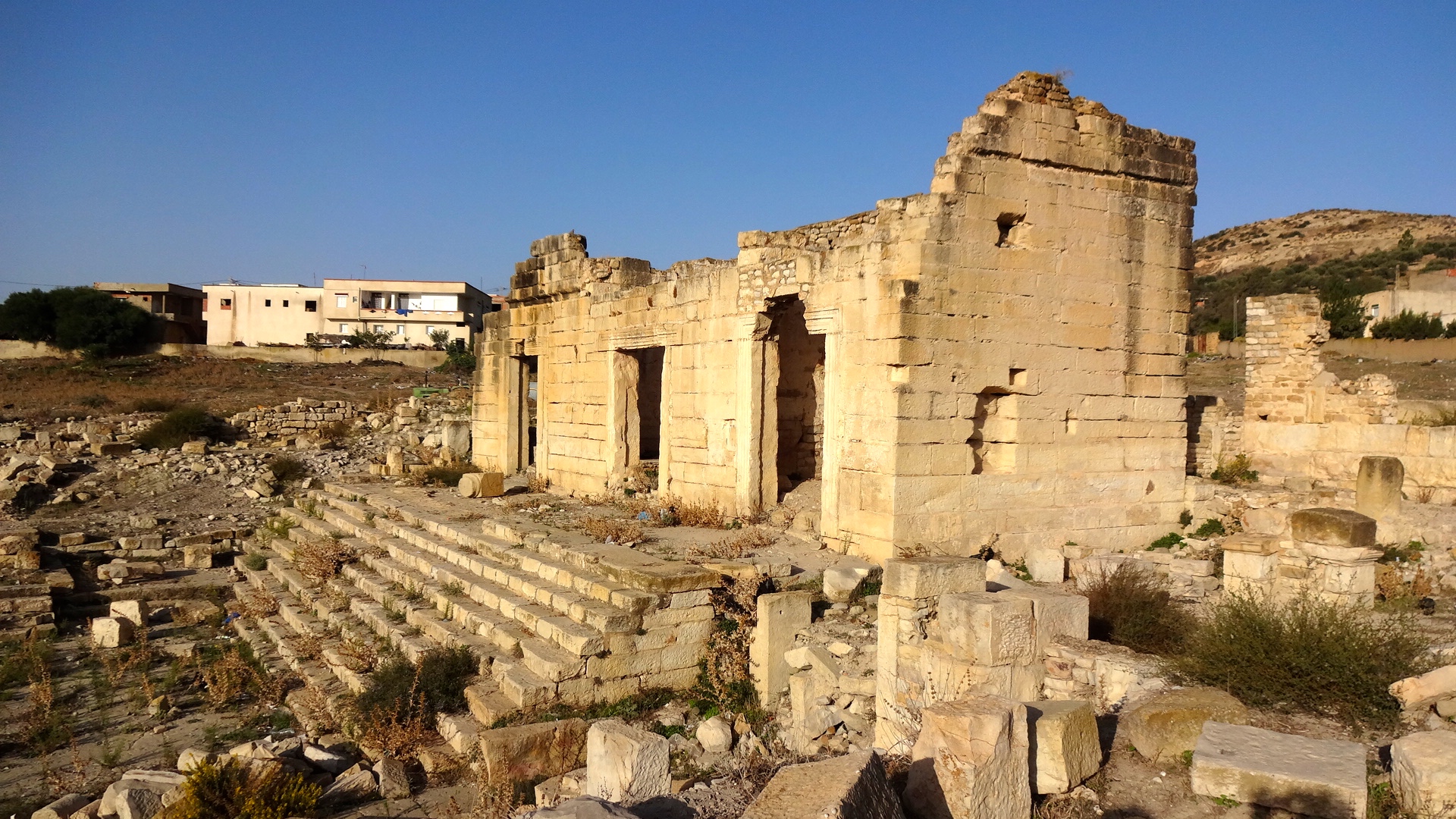 Here's the English translation of the Wiki site for Tubernuc:
"Tubernuc is a Tunisian archaeological site originally Roman situated in the village of Ain Tébournouk , about seven kilometers southwest of the city of Grombalia. The site is located in a hinge region between the four regions of Cape Bon with Kairouan southwest, Zaghouan west, Carthage north, and the Sahel to the south. The territory of the plain is in the form of a natural corridor slightly curved ten miles. The history of the city is not well known but probably dates back to the Punic . This idea stems from the presence of an ex-voto dedicated to Saturn and Caelestis, found in an outdoor sanctuary, next to a source at constant behind the establishment of the city flow. Archaeological investigations have revealed the baths and public urban fabric dating back to the first century . An inscription dated to the reign of Macrinus certifies that the city was elevated to the title of municipality . The city has a small forum surrounded by porticos , a capitol slightly raised with three cellae and front porch, hydraulic installations, a small dam valve and water."
On the way to the Kerkouane ruins, my driver and I discovered this fortress up on the major terrain feature overlooking the town of Kelibia. Originally a strong point for the Carthaginians, the Romans captured it during the First Punic War (c. 250 BCE) and kept it until the Byzantines and then the Arabs captured it years later. It makes for an interesting side trip heading to the Kerkouane ruins and provides a wonderful view of the Mediterranean Sea.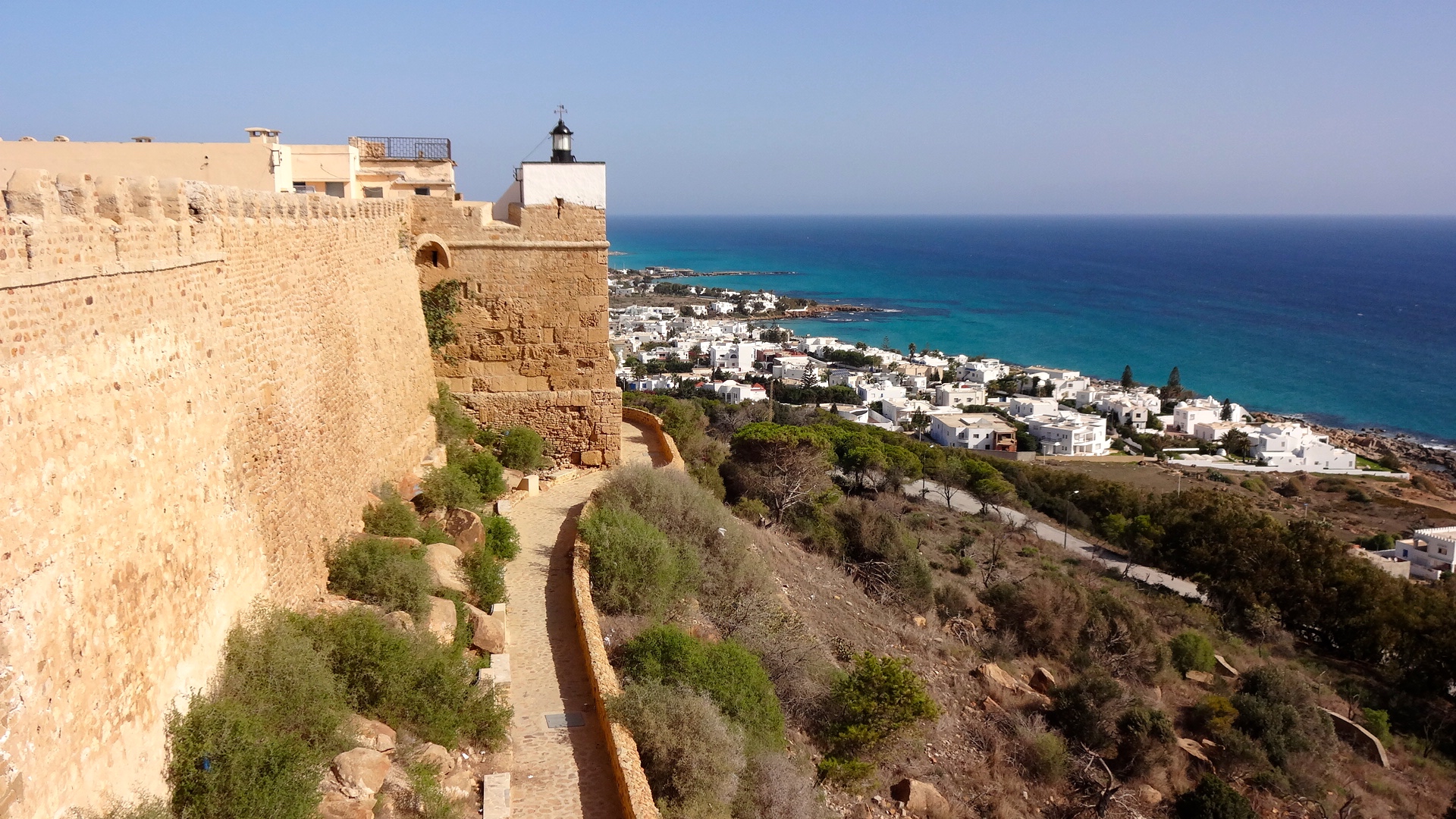 Unlike Tubernuc, Kerkouane is a well-maintained and organized tourist location. Most importantly, this is a purely Punic site. Captured by the Romans during the First Punic War by the Roman consul, Regulus, in 254 BCE, the Romans never occupied the site and Kerkouane eventually was buried beneath the sands. It wasn't rediscovered until 1952 and therefore escaped being destroyed during WWII. In 1985, the UN declared it a World Heritage Site because Kerkouane constitutes the only example of a Phoenicio-Punic city to have survived Roman occupation. Kerkouane had existed for approximately 400 years before its demise.
This site is well-organized, well protected, and has guides available for those wanting to use their services. I found only Kerkouane, Carthage, and Dougga had professional tour guides available. They have certifications from the Tunisian government and all speak English, French, and Arabic. There also is a small museum of artifacts found during the dig. I think I liked this site more than many others who have visited here because we were the first to arrive and didn't have to deal with the normal tourist crowds that arrive here daily during the summer.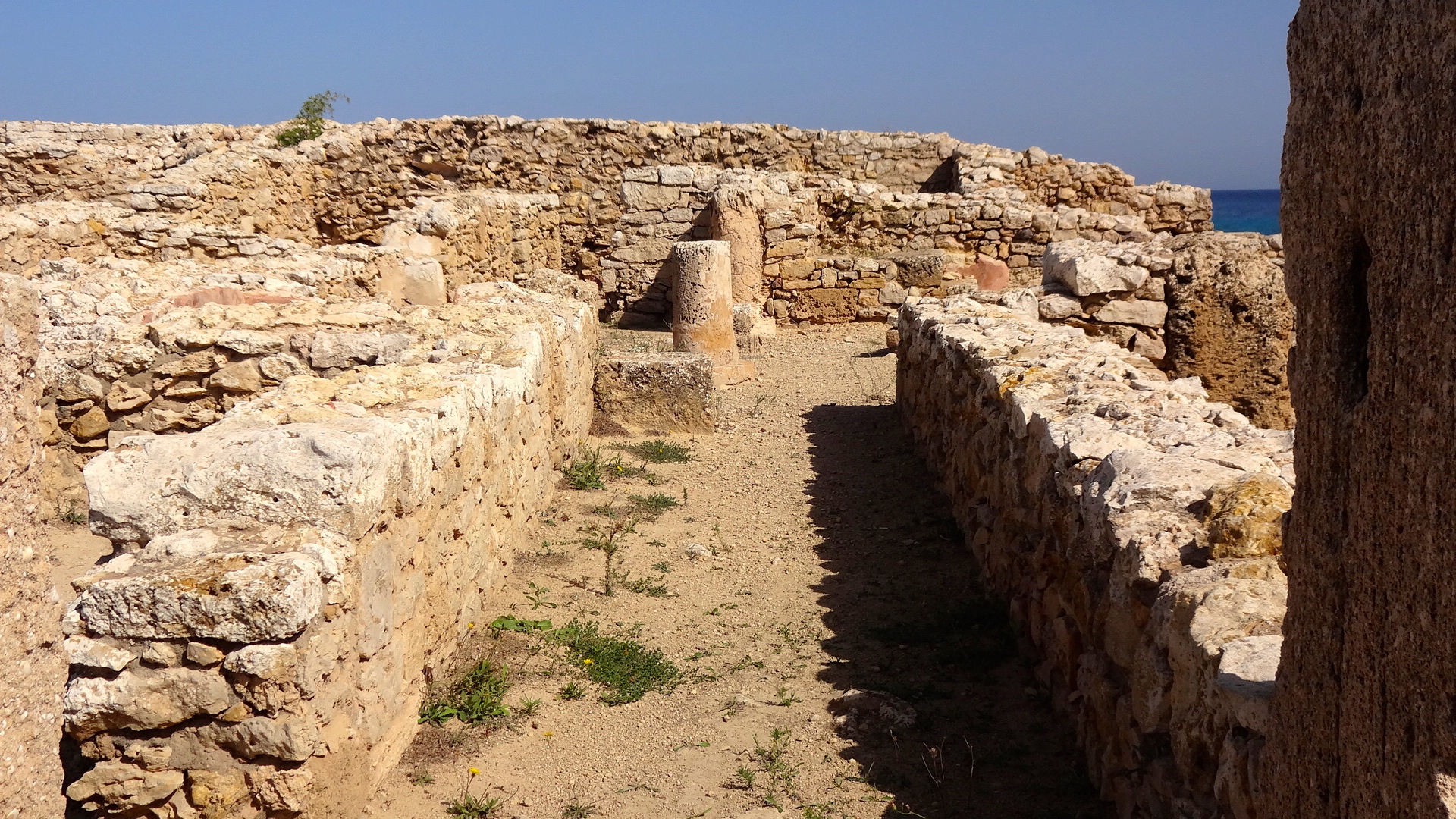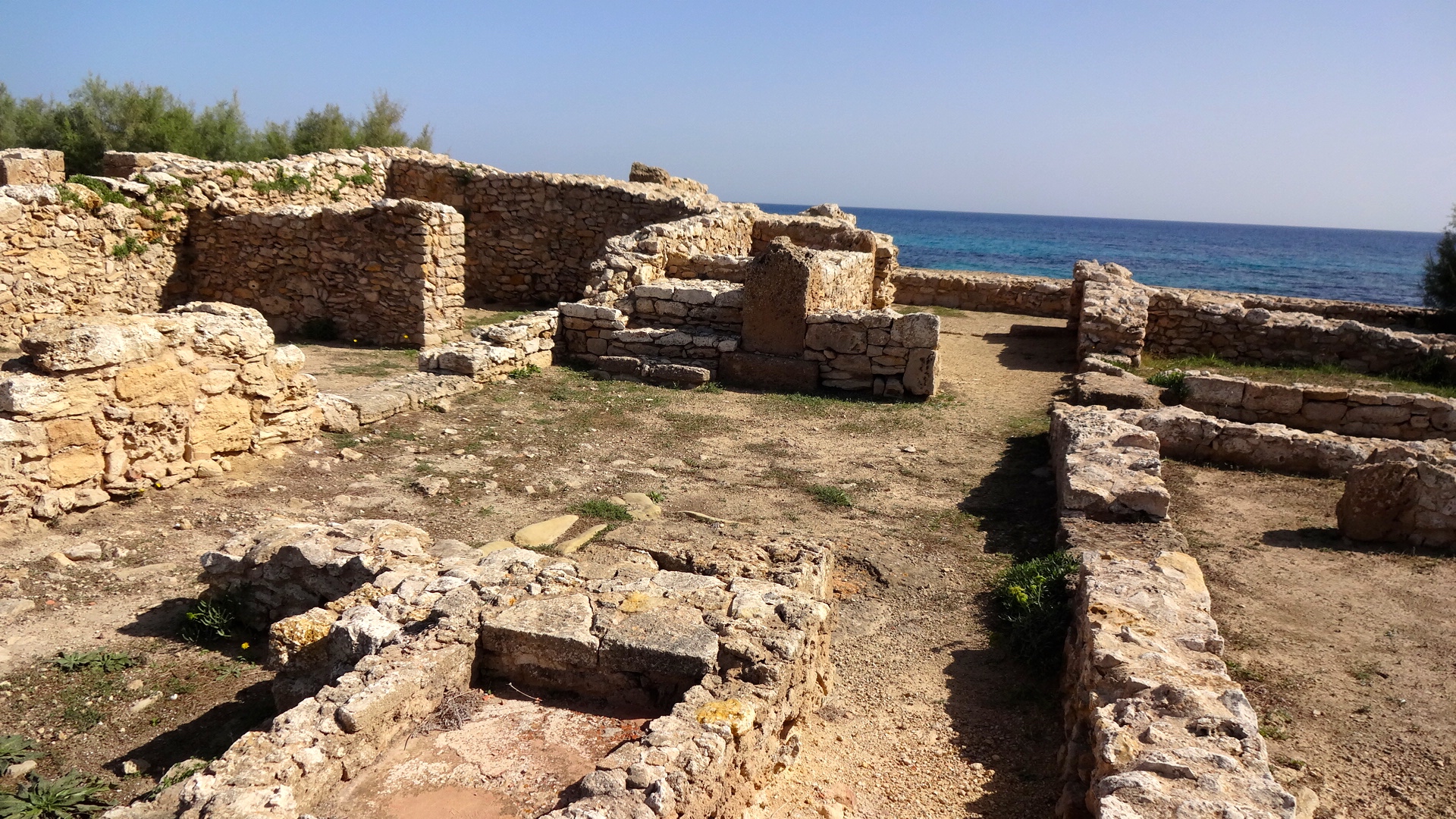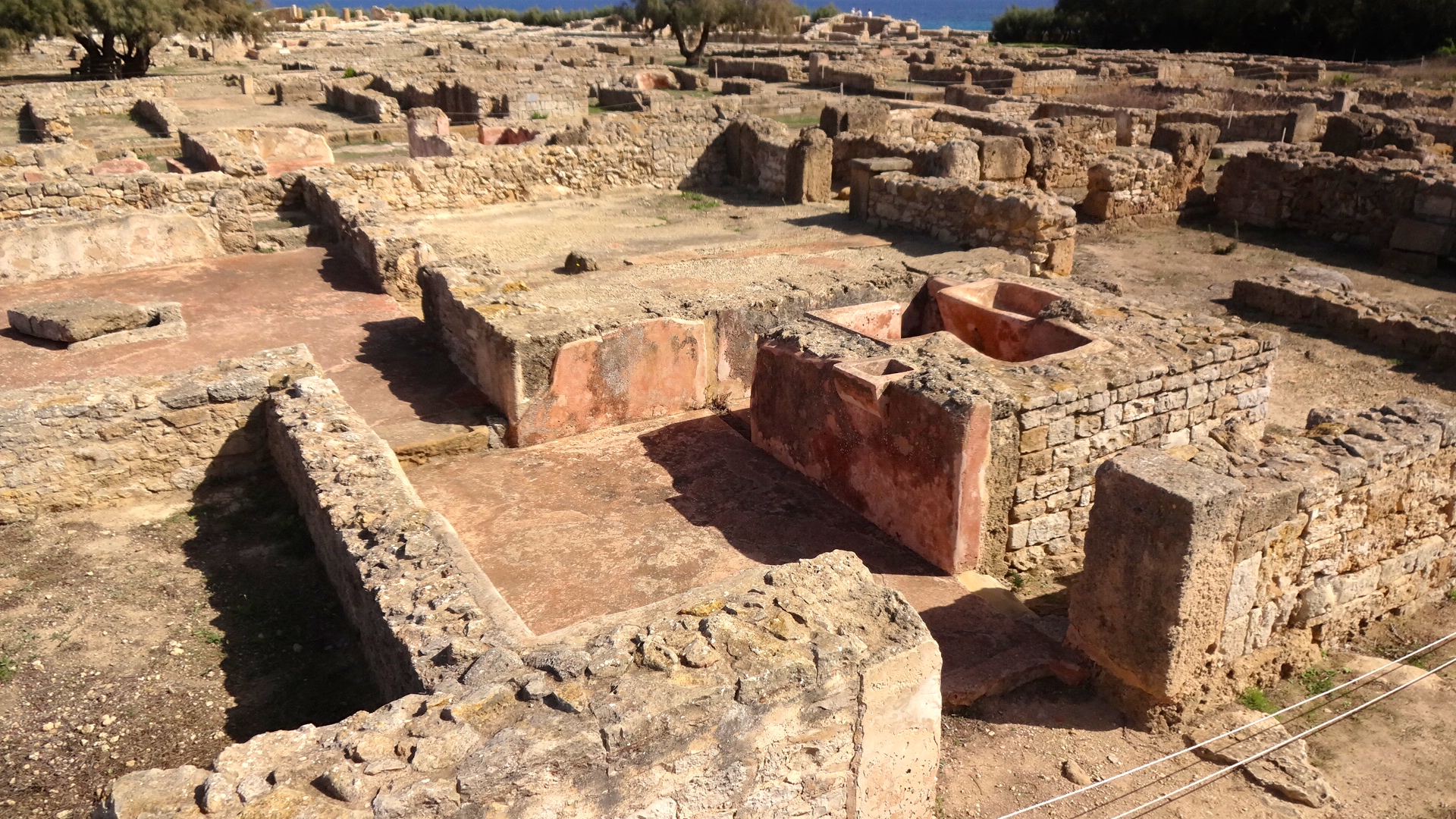 As we were racing to El Djem on Tunisian back roads in order to arrive before sunset and before they closed the ruin to visitors, I wondered why on Earth the Romans would have built their third largest amphitheater (Coliseum) in the middle of nowhere. As it turns out, the Roman town of Thysdrus commanded over one of the most important north-south trade routes in North Africa and also was situated along the west-east route from the sea to the interior. Thysdrus was a vibrant and important Roman town.
In the 3d Century CE, this great amphitheater was constructed. While it was copied from the Coliseum of Rome, it was built from freestone instead of brick and contained many technological innovations, having benefited from the three centuries of time following construction of the Roman amphitheater. The elliptical structure is 138 meters long by 114 meters wide and held up to 60,000 spectators.
The theater was never completed because of political rivalries and lack of funds within the Empire. Stones were quarried from a distance of 50km away. There was no decent water supply available so naval battles were never staged in the arena.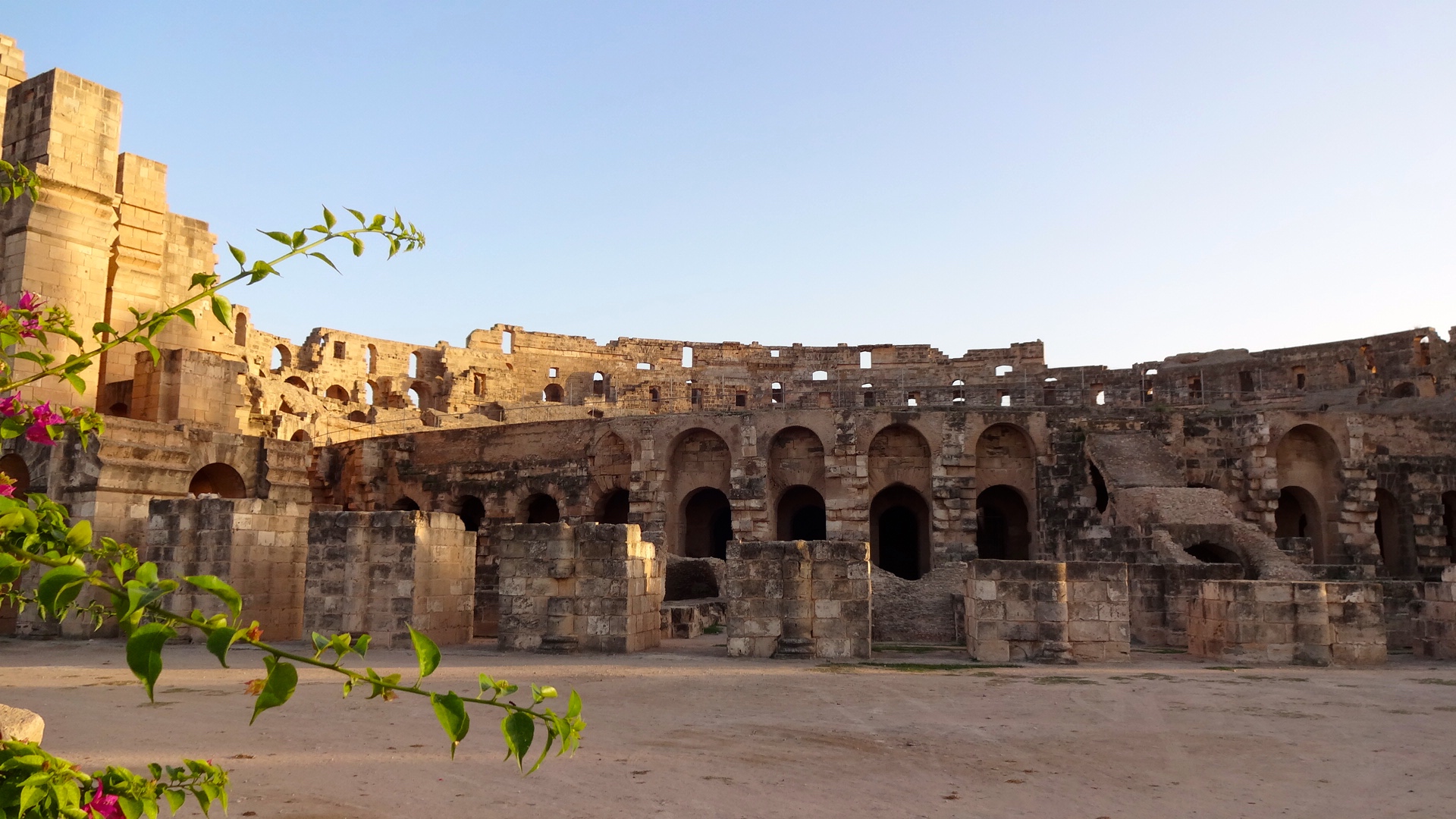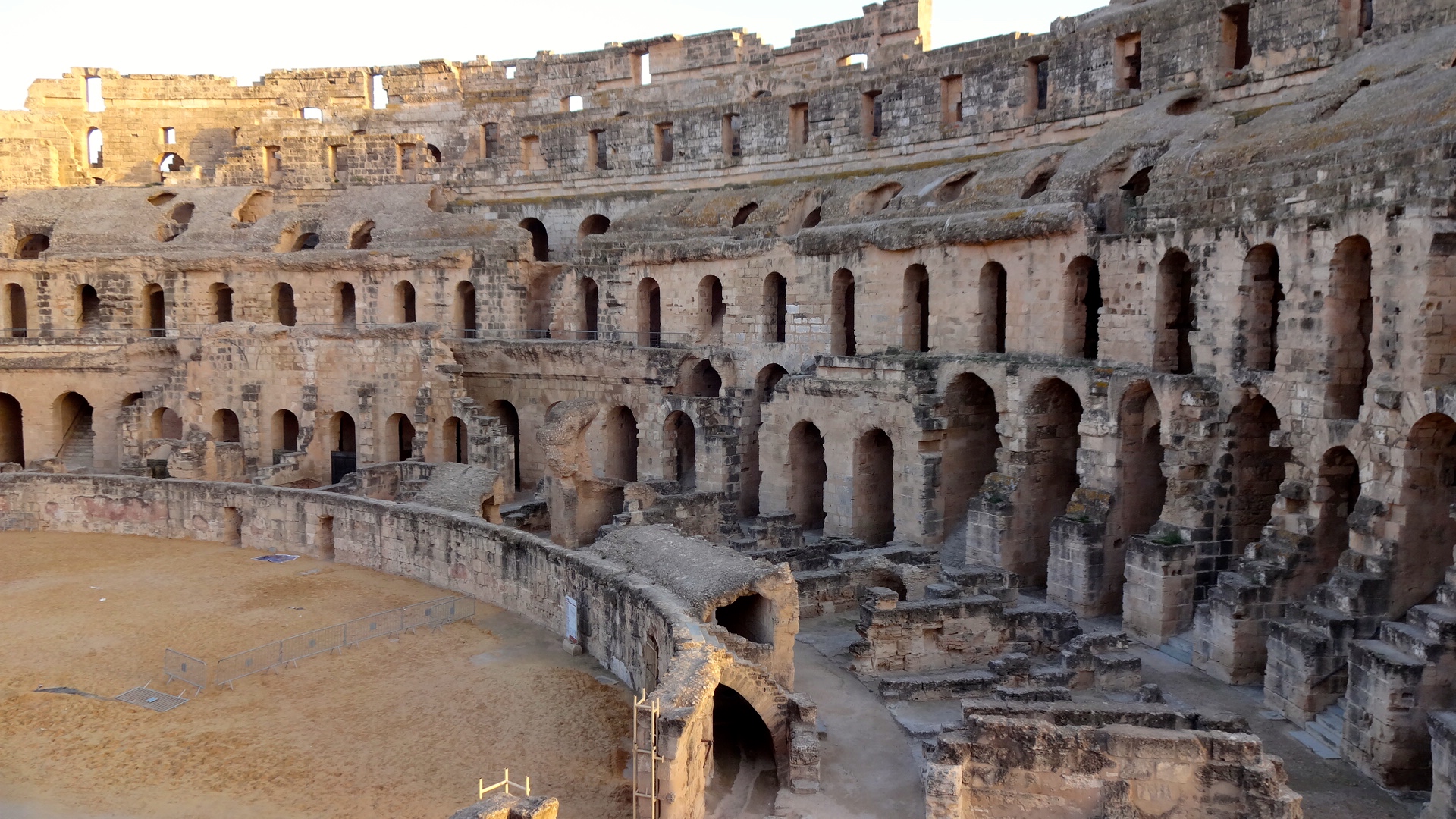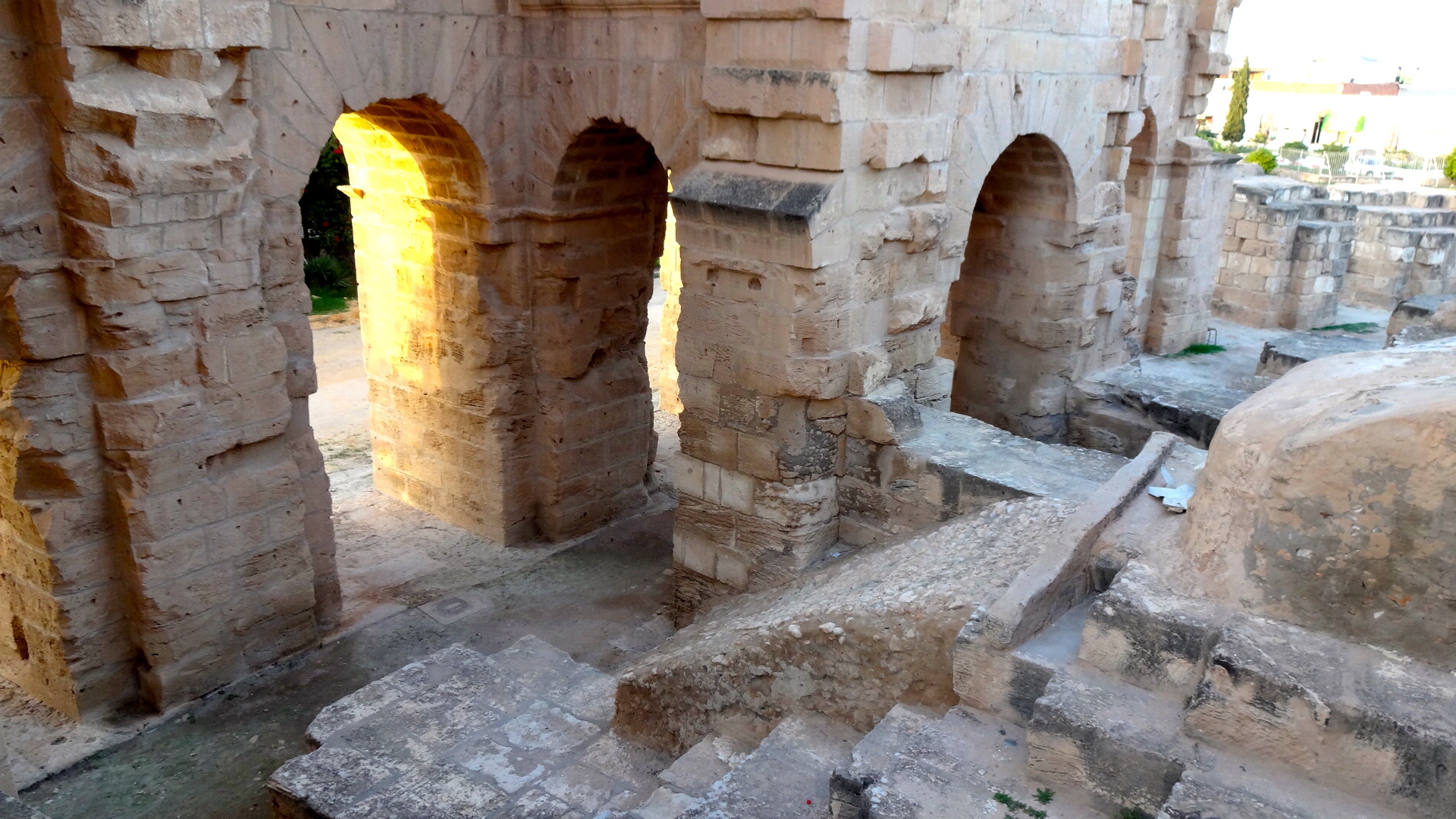 My driver and I left early the next morning so we could escape the Tunis traffic and we headed to Dougga, probably one the most extensive Roman ruins in Tunisia and one that definitely is on the bus tour list for nearly every tourist agency. So far on my trip, we've managed to avoid the crowds that normally flood to these sites during peak tourist season. Because I was here in October, the bulk of the tourists had returned home. And because my driver and I headed out early each day, we managed to avoid the busloads of remaining Japanese and Chinese tourists. While still warm, we also avoided the extreme heat of the North African summer. I couldn't have planned it any better.
As we were nearing Dougga, we noticed some ruins behind some buildings along the main highway. My driver asked me if I wanted to stop and take a look. At first I said no, but then I thought, "what the hell, we're here anyway," and we pulled around and parked. Ain Tounga is another interesting archaeological site off the beaten path of the tourist buses. It's uncontrolled and easily accessible. It also happens to be an extensive Byzantine fortress built upon Punic and Roman settlements. The Byzantine fortress was built during the reign of Emperor Justinus the Second (565-578 CE) and guarded the ancient trade route of Cirta-Thelepte. Ain Tounga was excavated by French archaeologists in the late 1880s and I don't believe much has been done with the site since then.
Dougga is worth a visit by anyone visiting Tunisia for the first time. The site is well-preserved, extensive, and well organized to receive the busloads of tourists who arrive here daily. My driver and I were fortunate to be the first ones to arrive in the morning. I was approached immediately by a professional tour guide asking me if I would like for her to guide me through the site. I waived her off because I figured that I could read about this site later (it is well-documented) if I needed to. I had also been to many of Roman ruins in Europe and didn't think I needed another explanation of the historical significance. I also thought she would slow me down on my planned rapid trek through the site.
And so, my driver and I rapidly trekked through Dougga. Fascinating place. Dougga sits atop a 500 meter plateau overseeing an agricultural valley. The site was founded by the Punic population, then taken by the Numidian kings (c. 203-148 BCE), and then by the Caesar and the Romans after the defeat of Pompey and his Numidian allies. Thugga became a Roman colony during the reign of Gallio (260-268 CE). Years later, the Byzantines built a fort here to protect its trade and security interests (6th Century CE).
As one enters Dougga, the theater of Dougga is the first main site to explore. It is considered to be the most spectacular and best preserved Roman theaters in Africa. It was built c. 168-169 CE by a Roman knight who was born in Thugga. The theater could seat 3,500 spectators.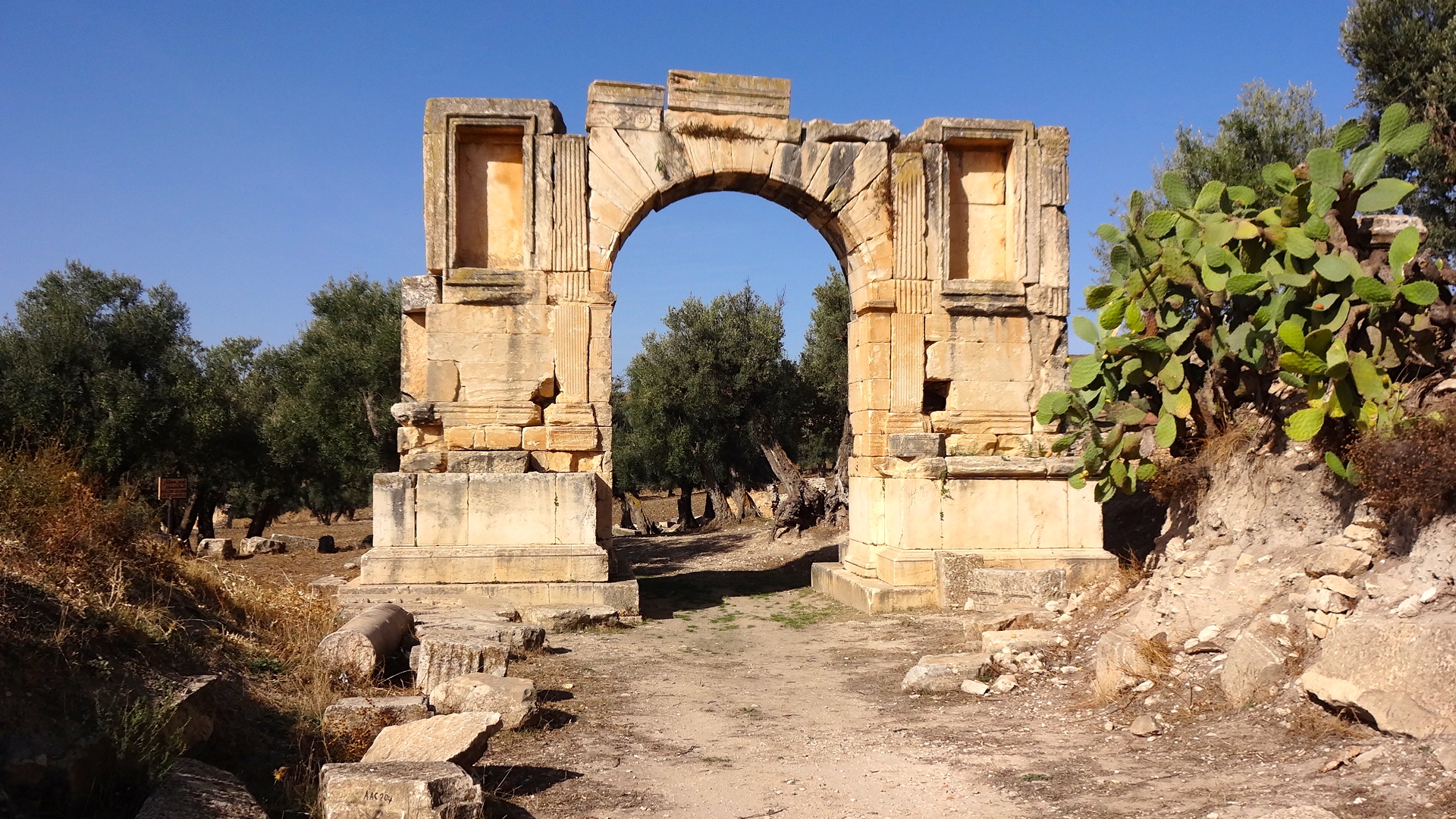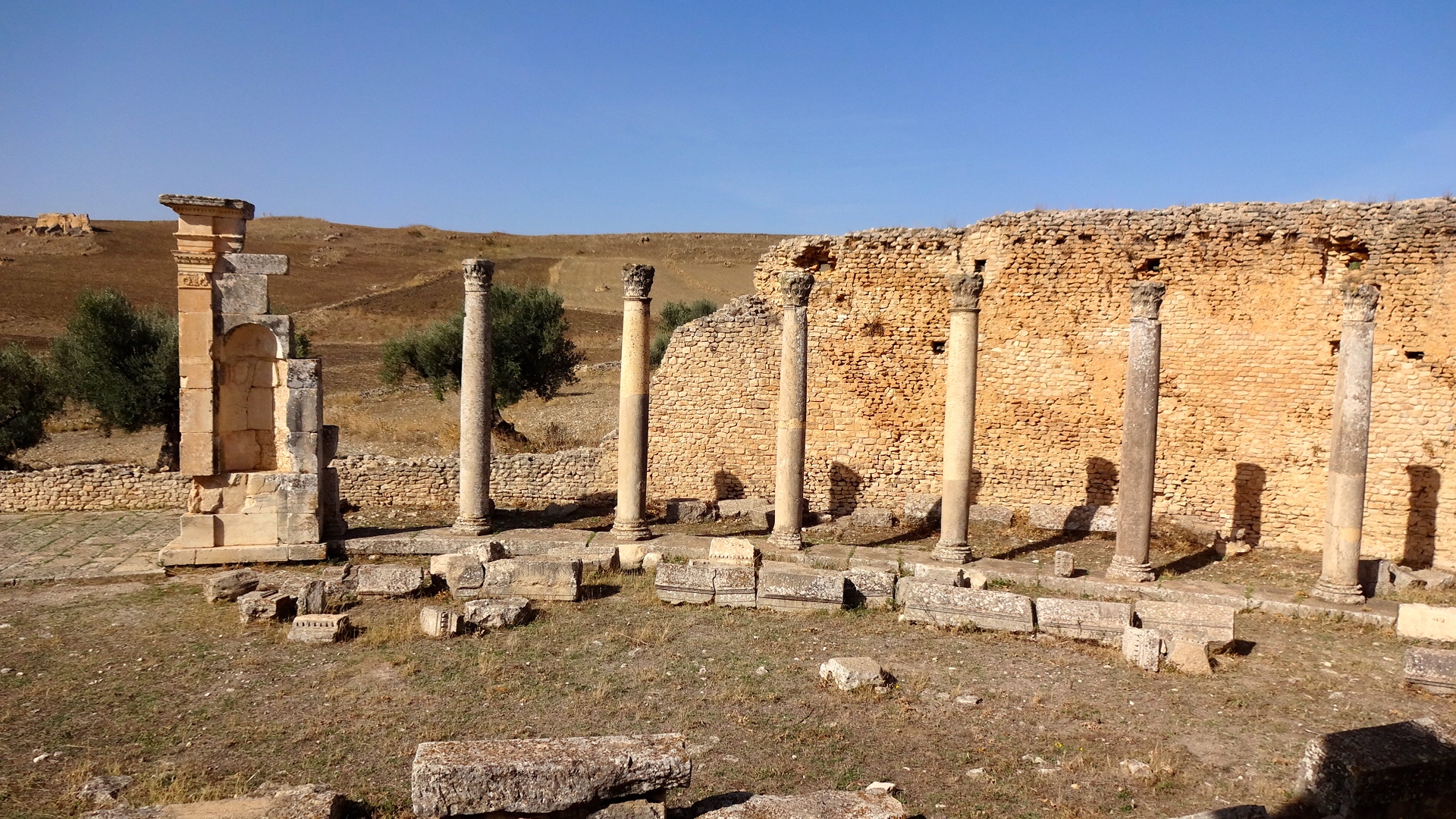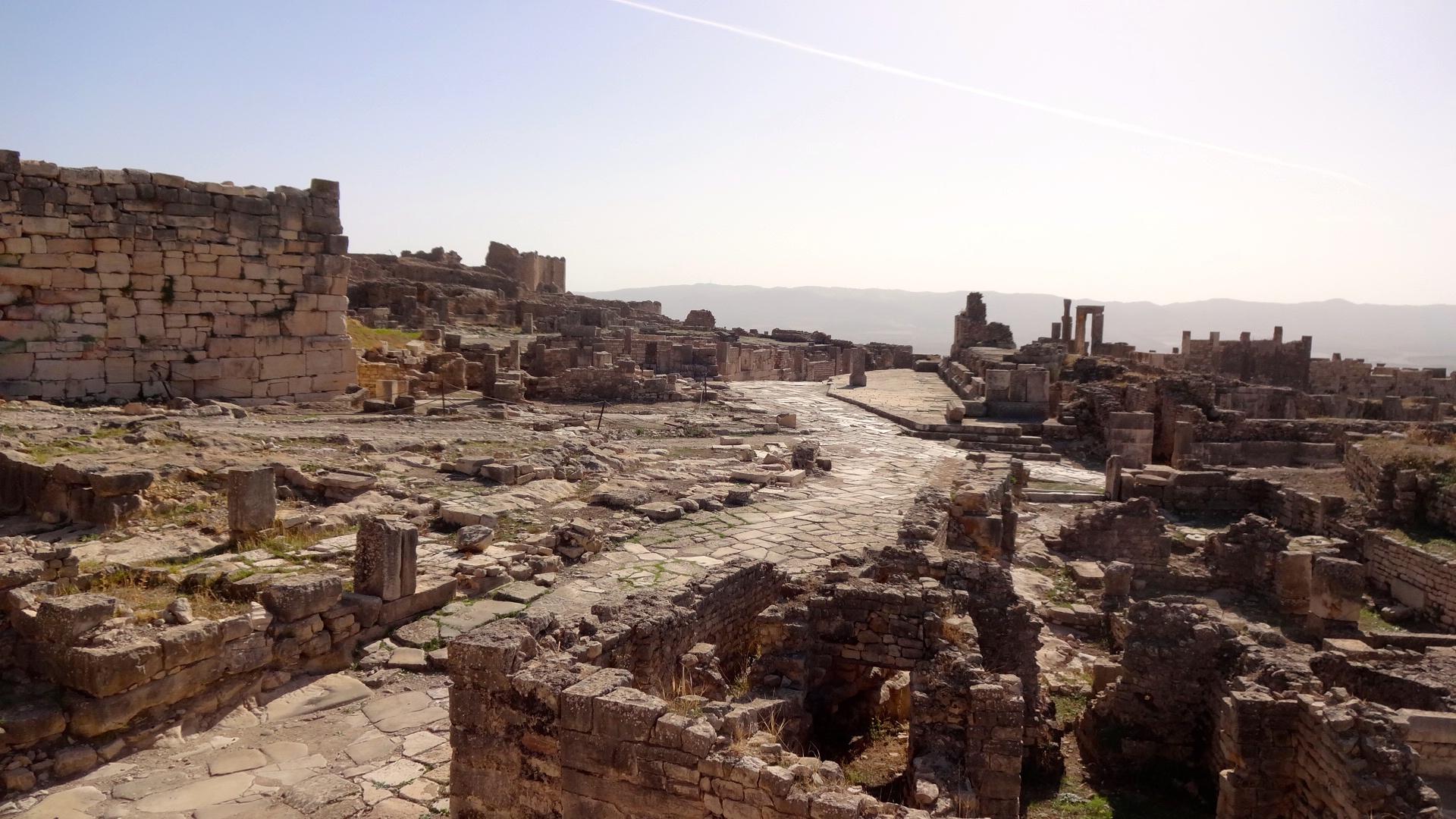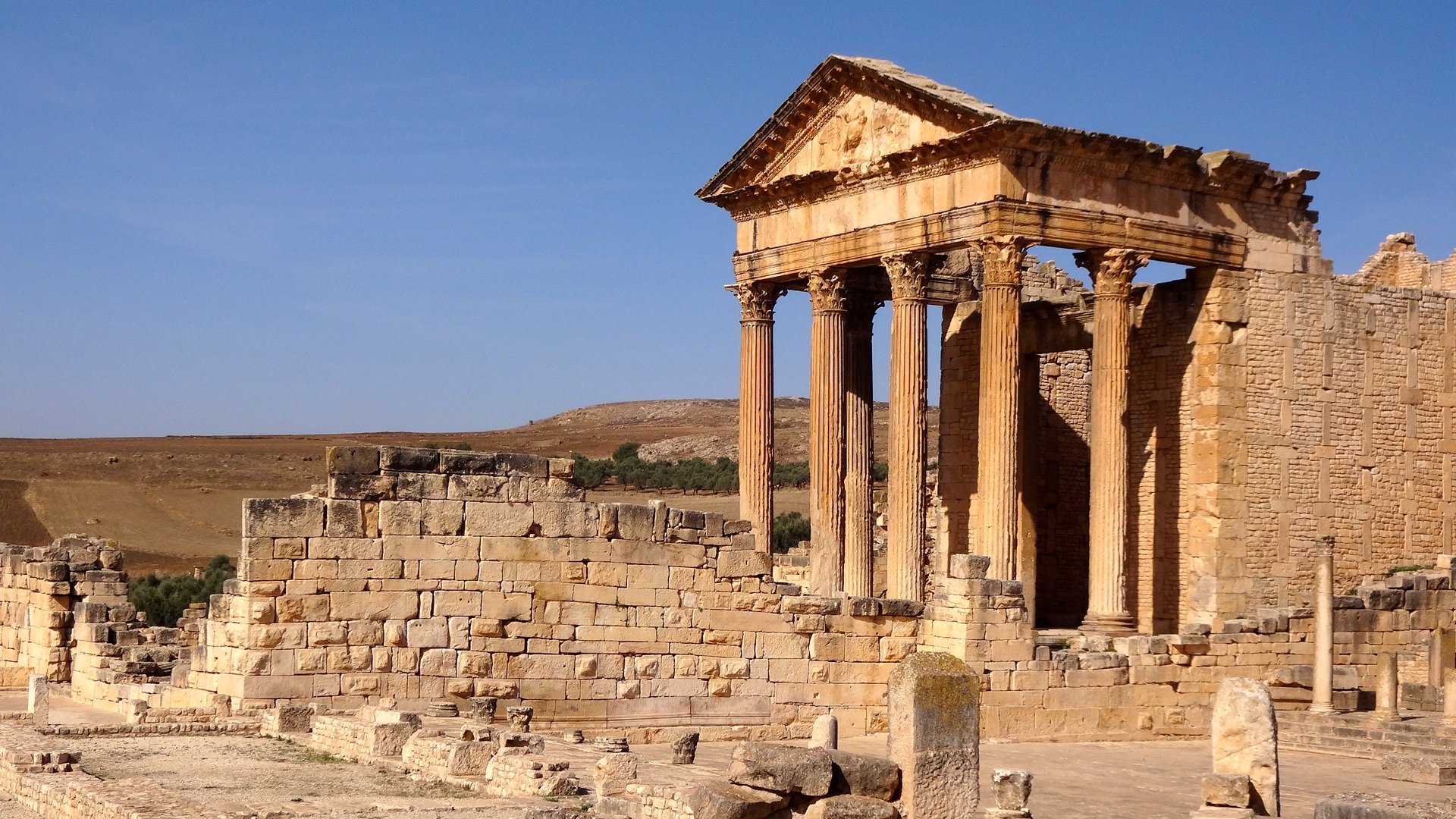 On my quick-paced hike through the complex, my driver and I headed up a goat trail behind the theater leading to three pillars that had attracted our attention earlier as we were driving up the hill to Dougga. Once we arrived at the pillars, I discovered what looked to be a shrine in the sloped hillside and hiked up another trail to explore that area. Walking atop a stone wall that was the shrines outer wall, I came upon these footprints in the ancient concrete.
I stood there looking down at these footprints (actually sandal prints) and thought, "This is bullshit. There's no way these are real." Taking a closer look, I thought that they might be real. And then I was grateful that I hadn't taken up the services of the lady tour guide since I doubted she would have wanted to climb up goat trails off of the approved tourists paths through Dougga. I motioned to my driver to join me on the wall and to see what I discovered. He joined me, looked down, then dropped his Bic lighter into the right footprint. I should have taken a photo of that too, if only to provide scale. The foot size seemed to be men's size 6 or 7.
After we completed our whirlwind tour of Dougga, we were preparing to return to the car and to head south to the Battle of Zama area. While walking back to the car, I noticed the lady tour guide, who I had waived off, approaching me. I inquired about the footprints and asked if they were real. She smiled, nodded, and replied that they were real but the archaeologists were not sure if they were of Punic or Roman origin.