Off To The Riyadh Camel Market
Last weekend I managed to take a side trip out to the Riyadh Camel Market. It's the largest camel market in the world and it is located just a few miles from our compound. I see a small section of it driving to work every day. It looked small enough from the road. But, Naseem, our Paki cab driver/tour guide, drove us into this market from a different direction. Amazing. It goes for miles and there has to thousands of camels housed there in pens and corrals.
As we were driving through one of the gates into the market, I looked to my right and saw a dead camel that had been dragged into a ravine just outside of the market complex probably waiting to be picked-up and disposed of before it rotted. While my first impression of the market didn't start off well, my amazement increased as Naseem drove through many of the interior market roads and we passed hundreds of pens containing multiple camels.
There were male camels that were hobbled and leashed to keep from causing trouble. There were female camels and their young, baby camels, and camels with riding gear and camel trainers preparing some of the selected animals to work desert caravans. And there were mad camels -- very crazy looking and acting animals that were not happy at all about their current situation.
Knowing that these critters are famous for spitting, I kept my distance from the crazy looking ones as I walked around a portion of the complex. Here are a few shots I took: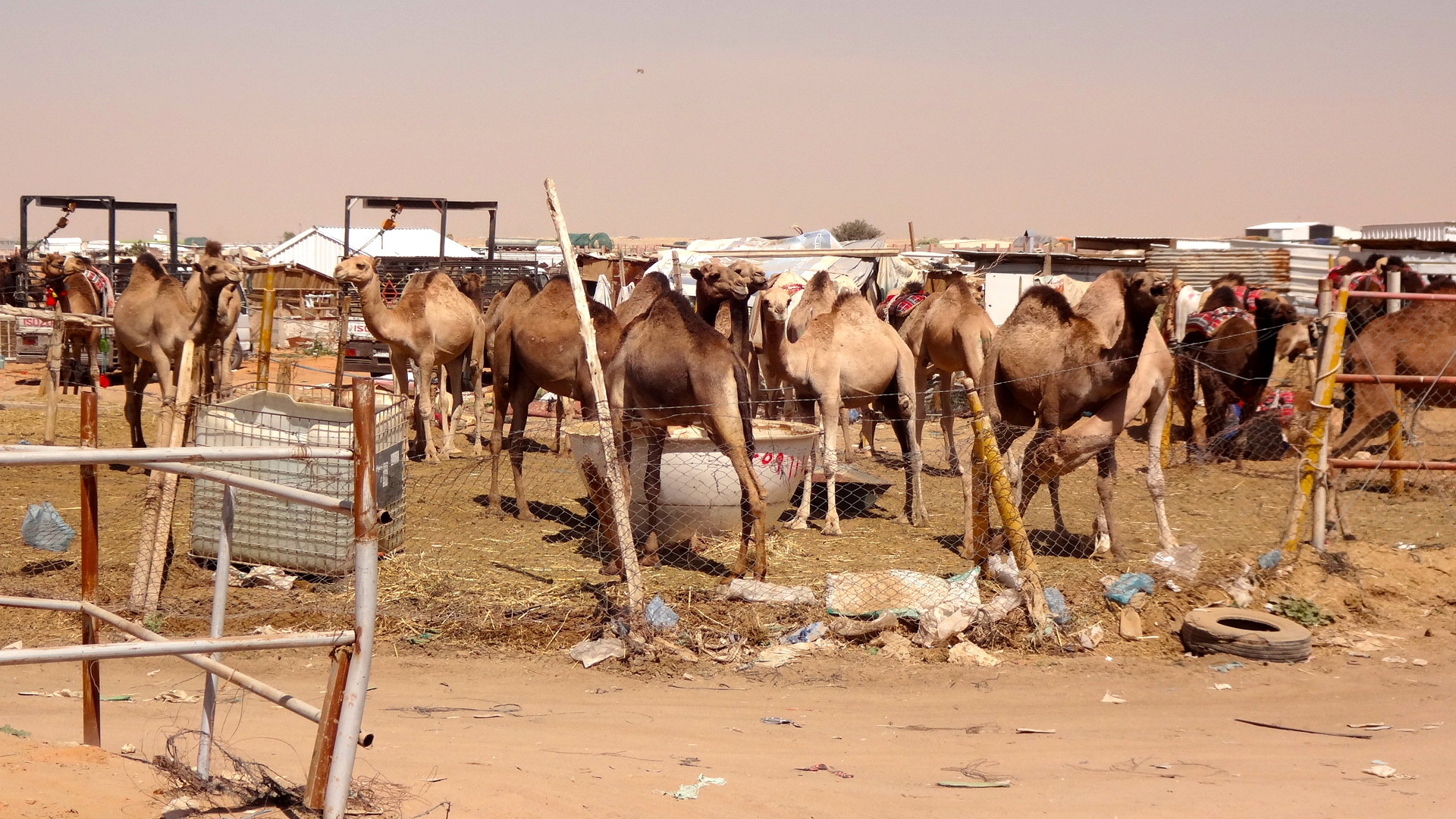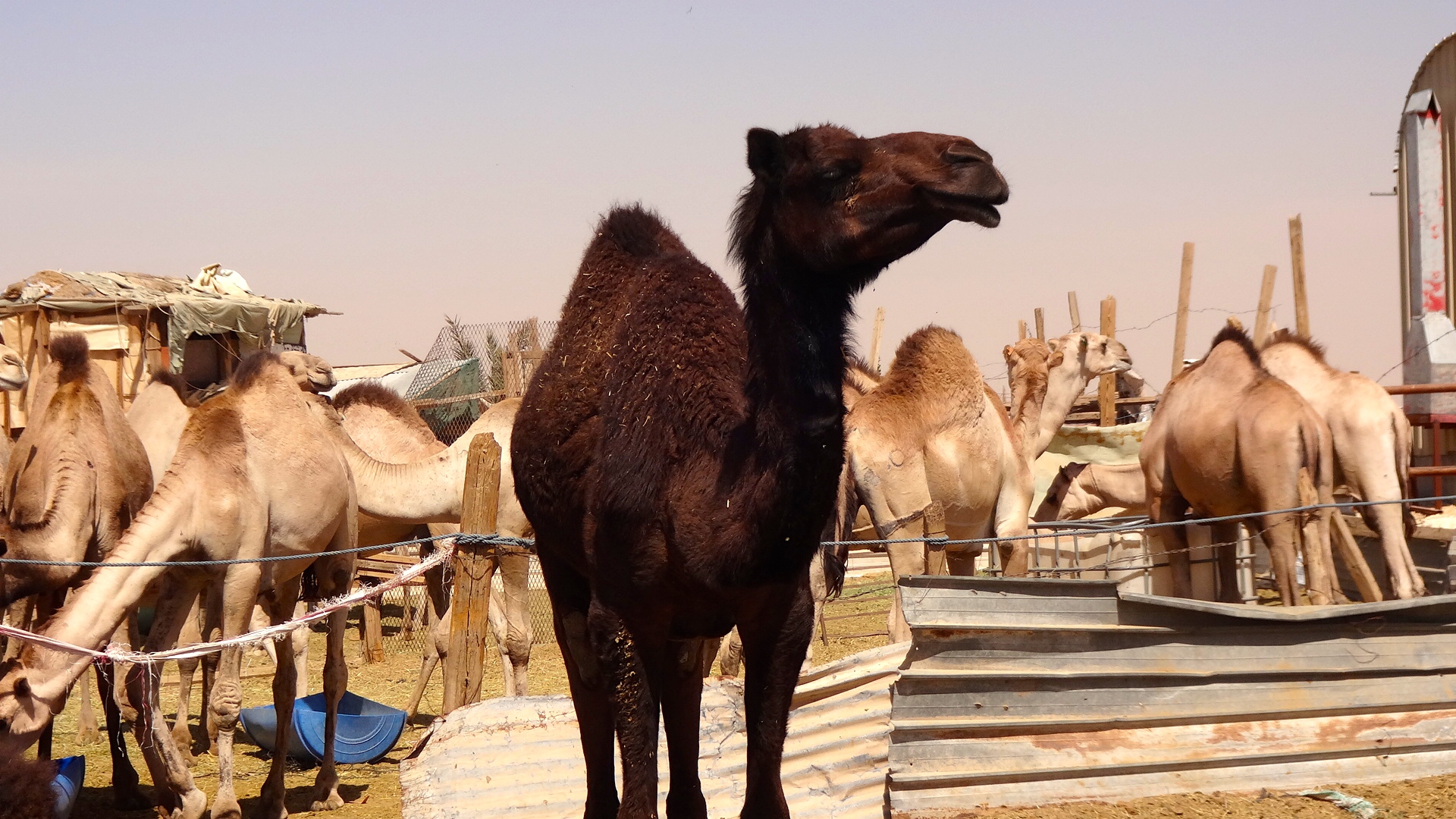 Here's a little information I pulled down from the Web (from www.arriyadh.com) that provides a little history and fun facts:
"The Arabic name for a camel, 'Ata Allah', means God's gift. The scientific name is Camelus dromedarius, but it's from the Arabic word for beautiful, 'jamal', that the English name is derived. The Arabian camel is specifically the 'one-hump' dromedary. They were domesticated thousands of years ago by frankincense traders, who trained them to make the long journey from southern Arabia to the northern regions of the Middle East. Historically they were the main source of transport; a loyal friend in the desert; a sturdy worker; a cool and shady spot to lean; a reliable supply of milk and, eventually, a supply of food and leather. They are an intrinsic part of Bedouin culture, from a time when a man could be judged by the quantity and condition of his camels, and as such, the subject of much poetic contemplation.
Today camels are highly valued as thoroughbred racing animals and as sentimental reminders of a shared past. They are unique in the mammal world, in that they are able to raise their body temperatures tolerance level as much as 6 degrees before perspiring, which helps the animal to conserve its body fluids and avoid unnecessary water loss. It means that the camel's body temperature is often lower than the air temperature - a group of resting camels will even avoid excessive heat by pressing against each other.
Contrary to popular belief, they don't store water in their humps - it's a mound of fatty tissue from which the animal draws energy when food is hard to find. When a camel uses its hump fat for sustenance, the mound becomes flabby and shrinks. A camel can last between 5-7 days without food, but if it does, the lump will shrink and flop from its upright position and hang down the camel's side. Food and a few days' rest will return the hump to its normal firm condition."
So, where do most of these animals go? There's only so many caravans and circuses in country. The vast majority of these animals end up in the neighborhood supermarkets. Camels today are primarily raised as a food source. Along with lamb and goat, camels supplement the usual diet of beef and chicken in the Kingdom.
Okay. I can handle that; it's just a cultural thing. But what I wasn't ready for was the article making its way through the world news sources last week. Here's a quick snip from the NY Times:
Well, I didn't get spit on and didn't get that close to camel snot flying around the market. I'm probably okay, and I'll do much better once I get over this nagging cough that I picked-up recently.